lady on a cell phone accessing checking account
FCU Checking Accounts
Have it all - Value and Interest-Bearing Options
Avoid the high fees other financial institutions charge and open a truly free checking account with FCU today. We've listed the features of each account below so you can choose the account that best fits your needs.
Features and Benefits of FCU Checking Accounts
Your Options at a Glance
At Florida Credit Union, we know our members have different lifestyles and financial needs. That's why we let you choose how you get to save and spend… choose from our two value-packed checking accounts.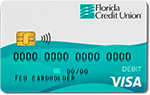 Value Checking
Our Most Popular Account
Our most popular checking option, this non-interest bearing account comes loaded with benefits and provides members with no-frills financial security. Free online and mobile banking included.
Free bill pay
Free Visa® debit card
Overdraft protection
Free first box of checks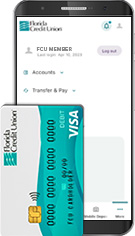 Interest Checking
Perfect for high balances
This interest-bearing option is ideal for members looking to keep higher balances and grow their money while benefiting from no monthly fee and a wide range of free services. Earn interest starting at a $10,000 balance.
Competitive interest-bearing rates
Free online and mobile banking
Free bill pay
Free Visa® debit card
Unlimited free checks
FCU Anywhere on a cell phone and computer
Bank with FCU Anywhere
Anytime, Anyplace
Get easy access to your account with FCU Anywhere online and mobile banking. Download the FCU mobile app from the Android & Apple stores.
View balances

Mobile check deposits

Set up alerts

Electronic Bill Pay

Use Pay-A-Person1

View eStatements

Access budget and savings tool

Transfer funds to internal and external accounts

Online Account Opening
Complete an application online to get started
Open Now

Call 800-284-1144
Get connected with a FCU service representative
Call Now

Visit Us!
We have 12 locations in north and central Florida
Find a Branch Near You
FCU Overdraft Protection

We don't think you should ever have to worry about insufficient funds. Overdraft protection is a pre-arranged coverage for any overdrafts approved by FCU that may occur based on your actual or available balance. We offer several options designed to protect you from budget miscalculations and NSF (Non-Sufficient Funds) fees2.
Transfer from a regular savings: Link your checking and savings accounts so you can transfer money from savings to cover checks and debit transactions.
Coverage through a personal line of credit account: Your checking account can be directly linked to your personal line of credit, allowing you to automatically cover checks or debit card transactions.
Bounce-free checking protection: With bounce-free checking protection from FCU, you can avoid the high fees and hassles that come from insufficient funds. If you overdraw your account, FCU will cover your checks, ATMs or point-of-sale transactions, and electronic transfers (ACH)3 to ensure your transaction goes through. There is a small fee.


Switching is Easy with ClickSWITCH®
Switching your checking account from one financial institution to another can be stressful, but it doesn't have to be with ClickSWITCH®. Easily move recurring payments and direct deposits with the click of a mouse. ClickSWITCH® is fully automated, convenient, and takes as little as 10 minutes to set up.
If you have ordered checks before, simply log into Online Banking and select
Accounts
then
Check Services
. You will need a checkbook from your previous order to complete the process, as well as pay a small fee. You can also call FCU at
800-284-1144
to order more checks. You may also qualify for free checks. In this case, call us directly at the number above and we'll order your new checks on your behalf.
Get paid up to two days sooner! Enjoy the convenience of having your payroll check automatically and safely deposited into your FCU account with direct deposit!

Your employer's payroll department or Government Agency will need the credit union's Routing Number (263178410) and the account number where you want your paycheck deposited into. To find your electronic payment account number, log in to your account, select which account the money will go in, and click or tap view details. You can also give us a call - we're happy to assist you!
Yes, if you have the funds available and choose to withdraw the funds in the form of cash, we ask that you call us 3 business days ahead of time so we can arrange to have the funds on-site. We recommend you consider taking large sums of money in the form of a certified check as this is safer than having large sums of cash on you. If you choose to take a certified check, no advance notice is needed. However, if you would like cash, call us at
800-284-1144
and provide us with the branch location, the amount, and the date you will arrive to withdraw the funds.
Yes, you can use digital wallet services with a FCU Checking Account, including Apple Pay®, Samsung Pay®, Google Pay®, Click to Pay, Fitbit Pay™ and Garmin Pay™.
---
DISCLOSURES
1. Pay A Person electronic payment available with Bill Pay.
2. Charges and limits will apply. As a condition of overdraft protection coverage, the account balance must be brought to a positive balance every 20-day period. While FCU will typically pay overdrafts on accounts in good standing, payment is a discretionary courtesy, and not a right or obligation. For example, we typically do not pay overdrafts if your account is not in good standing, or you are not making regular deposits, or you have too many overdrafts. FCU may, in our sole and absolute discretion, cease paying overdrafts at any time without prior notice of reason or cause. Please review important disclosures in the Membership Agreement. Refer to the FCU Fee Schedule for more information.
3. Continued enrollment subject to approval and subject to change. Checks are paid as long as Bounce Free limit has not been met or exceeded. A charge per bounced check or overdrawn withdrawal at an ATM and/or point-of-sale or ACH will apply. Refer to the FCU Fee Schedule for more information. Once enrolled, you may opt out at any time. Please review important disclosures in the Membership Agreement. Refer to the FCU Fee Schedule for more information.
4. Offer good on all Florida Credit Union Checking and Savings accounts. Transactions must be made in the United States, and not valid on cruise ships, casinos and international transactions. Must submit receipts within 90 days of surcharge for rebate to be processed. FCU transaction fees may apply. Receipts can be mailed to: P.O. Box 5549, Gainesville, FL 32627; please include account owner's full name with receipt(s).