Member owned. Community proud.®
Since 1954
Established in 1954 as a state-chartered credit union for teachers, FCU was originally named the Alachua County Teachers' Credit Union, and was owned and operated by teachers working in the Alachua County School System. After the first annual meeting in 1955, FCU began to add more school systems, community colleges, and other educational groups in the area, which helped grow and improve the credit union's offerings.
Nearly 70 years later, FCU is now a leading credit union in North and Central Florida that serves 48 counties, and continues to expand its products and services while striving to ensure each and every member's financial needs aren't just met – they're exceeded.
We look forward to showing you the FCU Difference.
Our Mission: Florida Credit Union will serve our members and communities with efficient, convenient services and quality products that meet their everyday and long term financial needs.
Understanding the Credit Union Difference
We work for our members
CREDIT UNIONS ARE MEMBER-OWNED COOPERATIVES
The concept of a financial cooperative is simple, our members are our owners. As a cooperative, credit unions are owned and operated by their members, and it exists purely to provide members with affordable, convenient financial services.
CREDIT UNIONS ARE NOT FOR PROFIT
Credit unions are exclusively owned by the people who save and borrow there. Profits are returned to the members in the form of lower rate loans, a higher return on savings, lower fees and better service to members.
CREDIT UNIONS ARE VOLUNTEER DRIVEN
The foundation of the credit union is the active participation of volunteers. Our board of directors and committee members are elected by and from our membership.
How to Join Florida Credit Union

Credit unions call their customers "members," but at Florida Credit Union there's no membership fee. Joining FCU is free. All you have to do is open a savings account with a $5 balance. That small deposit actually buys you one share of ownership in FCU! It is easy to join in person, by phone or in the comfort of your home.

Online
Open an account online
Join Online

Call 800-284-1144
Get connected with a FCU service representative
Call Now

Visit Us!
We have 12 locations in north and central Florida
Find a Branch Near You
Learn More About Florida Credit Union
FCU Staff working together to load boxes
Florida Credit Union maintains a strong commitment to supporting our local neighborhoods. Learn more about our efforts:
Florida Credit Union's fee schedule, policy and disclosure documents are available for you to read:
As a member of Florida Credit Union, you are a co-owner of one of the strongest credit unions in North and Central Florida. Since we are a not-for-profit organization, you, the co-owners benefit from lower or no fees on products and services, lower cost on loans and higher rates on savings, checking and CDs.
We offer all the services you would expect from a banking institution with the many extras that come with being a FCU member:
Full-service branches and ATMs (which are surcharge-free for members)
Internet & Mobile Banking platforms to stay connected with your money anywhere, anytime.

check balances and transactions
make payments using bill pay, person to person or person to business payments and transfers
transfer funds
remote deposit checks
view credit card transactions (not available through the mobile app)
apply for a loan

Great services you can expect from your credit union

Free checking accounts
Commercial banking services
Commercial loans
Low-interest mortgages
Car, Truck, Boat, and motorcycle loans
Online and mobile banking
Personal and business Visa credit cards
And much, much more!

Deposits are federally insured for up to $250,000 by the National Credit Union Administration, a government agency.
Florida Credit Union follows these eight cooperative principles in everything we do:
Voluntary and open membership
Democratic member control
Member economic participation
Autonomy and independence
Informational education and training
Cooperation among cooperatives
Concern for the community
Solidity
These seven principles, and our continued commitment to providing our members with the best financial services possible, is what constitutes the Florida Credit Union Difference.
Remember, the real difference between Florida Credit Union and other credit unions lies in the nature of our organization:
FCU is a financial services cooperative – that means we're owned by our members and are committed to supporting them and their needs.
Unlike banks, FCU can't be bought or sold.
Our profits and earnings are invested in the needs of our membership to help ensure we provide the best banking services possible, through higher rates of return and lower loan costs.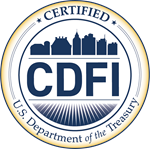 Florida Credit Union is certified as a CDFI. Community Development Financial Institutions (CDFIs) share a common goal of expanding economic opportunity in low-income communities by providing access to financial products and services for local residents and businesses. CDFIs can be banks, credit unions, loan funds, microloan funds, or venture capital providers. CDFIs are helping families finance their first homes, supporting community residents starting businesses, and investing in local health centers, schools, or community centers. CDFIs strive to foster economic opportunity and revitalize neighborhoods.