What is a mortgage loan? Buying your home and understanding the process
Home Financing
6/24/2021
3 min. read
By: FCU Team
If you've come here to start your homebuying journey, congratulations! This is an exciting yet nerve-wracking process for first-time homebuyers, but the rewards are worth it. Before you jump on Zillow to start house hunting, there are some things you can do to better prepare for any curveball that might come your way. We're here to help guide you through the process, from defining what a mortgage is to closing on your next humble abode.
What Is a Mortgage?

Mortgages are loans offered by financial institutions to help people in their communities become homeowners or refinance their current homes for a lower interest rate. While it sounds relatively simple, there are a few complexities to the process, starting with pre-approval preparation.
The Mortgage Loan Process

Buying a home is nothing to take lightly—for most, it's one of the biggest purchases of their lifetime. So, if you're going to do it, do it right! Before you start shopping around, there are a couple of preliminary steps to follow before you're ready to take on the big investment.
Refer to the video just below for some information on how to avoid fraud:

Pre-Approval Preparation

Know your credit score: Your credit is one of the most important determinants of whether you get approved for a mortgage. It can also influence how much you will pay in interest for the duration of your loan. Request a free credit report or get free access to your FICO score to see where you stand on the spectrum. Then, you can either take the steps to help boost it or, if you're ready, start your loan application.

Figure out your budget: Understanding how much you can afford monthly based on your income can get you one step closer to house hunting. Mortgage calculators make it easy for homebuyers to get an idea of monthly expenses including interest, property taxes and mortgage insurance. Don't forget to factor in the accessory expenses that come with buying a home, such as utilities, maintenance costs and furnishings.
Get Pre-Approved

Now that you've determined you're in good financial standing to become a homeowner, the next step is to get pre-approved. Pre-approval saves time in the homebuying process and doubles as a golden ticket to make credible offers to sellers. While creating a budget and checking your credit score is great preparation, a pre-approval can back your findings by giving you a realistic number of how much you may be able to borrow for a home loan.
Make an Offer

The moment is here... to make an offer on your dream home! While it's tempting to jump on an offer, be sure to do your research beforehand to cover your bases. Take a look at the selling prices of other homes in the area, how long the home has been on the market, if the seller has come down in price, and how motivated the seller is to sell the home. This type of market analysis can help you understand the standing of the home and whether it's worth the purchase price. If you decide to go in for the offer and the seller accepts it, then the purchase contract comes next. This document should be shared with your lender so you can start the loan application process.
Finalize the Loan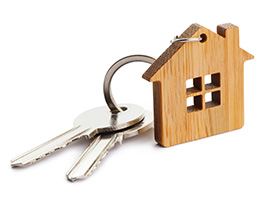 Those pre-house-hunting days when you proactively sought out your credit score and set a budget for monthly expenses are finally about to pay off. This is where the lender formally evaluates your information and assesses your ability to repay the money you borrow. Your credit score, income, past and current debts as well as your assets, are all accounted for in this process and ultimately determine your loan amount and interest rate. Remember, you're not the only one putting in offers on a home—be ready to share any documentation requested by your lender to quicken the process, including:

1. W-2 forms
2. Pay stubs from the last month
3. Details about other loans in your name
4. Bank account statements
5. Proof of all income
6. Proof of homeowner's insurance
7. Tax return information from the past year
8. Documentation on your down payment funds

Your lender will then order a professional appraisal of the property, which can help homebuyers confirm the sale price is within the true value range of the home.
Close on Your Home

At this point, the keys to your new home are just one step away. Closing is the final stage in both the mortgage and the homebuying process. This stage completes the legal transfer of the home and concludes the financing of the purchase. The buyer will then meet with the seller and possibly other professionals to conclude the transaction. This usually includes the current homeowner, your real estate agent and the closing agent.

You are required to pay closing costs and your down payment during the closing. It's best to come prepared by confirming with your lender how much the amount is, so you can get a certified check or wire transfer ready for action.

There is no one-size-fits-all for the homebuying process. Everyone's journey varies, and while one person can close on a home in a matter of a week, others can go months before they find the right match. A little patience goes a long way. After all, this is a long-term investment. If you're ready to take the next steps toward this financial milestone, our mortgage team is ready to help. Visit your local Florida Credit Union branch, call us at 1-800-284-1144, or apply online today!