computer keyboard with the word scam on it
Week 3: Romance Scams
Fraud Protection
10/5/2018
1 min. read
By: FCU Team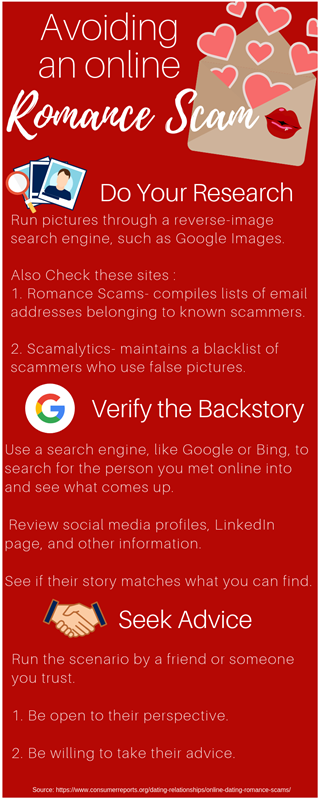 In recent years, stigmas surrounding online dating have faded into obscurity thanks to mobile dating apps. Over a ten year span the percentage of Americans who see online dating as a "good way to meet someone" jumped from 44 to 59%. Unfortunately, there are those who have taken advantage of the increase in the number of people looking for love online.


The FBI reports that cases of "Confidence fraud" have risen dramatically and resulted in losses of more than $230 million in 2016. Confidence fraud occurs when a scam-artist gains the trust of an unsuspecting victim with the intent to defraud them. Since people of all ages and backgrounds are potential victims of this type of fraud, it is important to know how to handle the situation if it does arise. Here are a few tips on how you can avoid becoming a victim of online deception:
1. Research
Run pictures through a reverse-image search engine, such as TinEye or Google Images. Check their email address at a site such as Romance Scams, which compiles lists of email addresses belonging to known scammers. Be sure to check out websites like Scamalytics which maintains a blacklist of scammers who use false pictures.
2. Verify the Backstory
Use a search engine, like Google or Bing, to search for the name of the person you met online and see what comes up. Review social media profiles, LinkedIn page, and other information you can find, to get a sense of whether what they are telling you matches with the facts.
3. Get Advice From Someone You Trust
Find a friend or someone you trust, who is less emotionally invested than you are, and run the scenario by them. Be open to their perspective and be willing to take their advice.

Although Florida Credit Union does monitor transactions for things that may be out of the ordinary, it never hurts to be vigilant about your finances and your love life. If it is indeed a scam, it may be difficult, if not impossible, to ever recover your money.
Sources:
https://www.fbi.gov/news/stories/romance-scams
https://www.consumerreports.org/dating-relationships/online-dating-romance-scams/