Car key inserted into a car
Three Tips To Prepare For Buying A Car
Auto Loan
7/18/2019
5 min. read
By: FCU Team
Are you considering buying a car? If so, then you already know it's important to not walk into the dealership blind. From before financing to when you drive off the lot, our list of tips will help guide you to find your ideal ride.

Follow along for these three definitive things to know before you buy a car.
1. Figure Out Your Budget
Before looking at the type of car you want, it's important to be realistic about what you can afford.

A car is more than just a monthly payment. Insurance, gas, and upkeep need to be taken into consideration, as well as a possible down payment. Going into the dealership, you should know how much you ideally *want* to spend, how much you *can* spend, and don't let the dealer go beyond what you can afford.

Companies like Kelley Blue Book and TrueCar specialize in tracking the average price of vehicles, as well as providing information about available rebates and incentives.

To figure out how much your payments will be, you can use Florida Credit Union's Car Loan Calculator. The calculator may ask you for information like the total purchase price of the car, the term of your loan, the down payment, and any rebates or trade allowances you may have, telling you the total value of your monthly payments For example, if you buy a car for $20,000, you could qualify for a 60-month loan with a 7% interest rate. At that value, with a $2,500 down payment, you'd qualify for a monthly payment of $365.13. Depending on your rebates and trade-in, your payment could be lower. Do not forget to take into account the cost of insurance and routine maintenance.
2. How is Your Credit?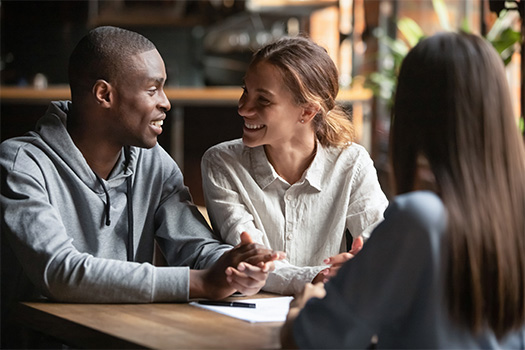 Do you know what your credit score is? You can get one credit report per year from each of the three credit bureaus, for a total of three credit reports.

Your credit can determine what interest rates you qualify for, how much your monthly payment is, and whether or not you'll be approved for financing.

Florida Credit Union members can also get access to their credit score, and advice on how to improve it, by speaking with a member service representative.

Just because your credit might be less than perfect, does not mean that financing is out of reach.

Financing is available through your financial institution, as well as through most dealers. Shop around to see where you can get approved with the best overall deal. A good loan will come with a low monthly payment and interest rate. Having the financing figured out before going to the dealership let's you focus on negotiating the best price for the car, and fine tuning what options are available to you.
3. New or Used? Buy or Lease?
When deciding what car you want to get, you'll need to decide on more than just the make and model.

You'll also need to decide between new and used. Are you looking for the latest model with all the features, or trying to save money by going with a version a few years older?

The same goes for whether or not you plan to buy. Are you planning on having this car for years to come, well beyond the life of your loan, or does it make more sense to trade in for a new car in a couple of years?

The answers may depend on your preferences and/or budget.

A car depreciates in value as soon as it's purchased. With a used car, much of the depreciation has already taken place, meaning that an older car can be much more cost-efficient than a new one. Purchasing a used vehicle that is only a few years old, can be a good way to get all the same features as a new car but at a reduced price. While older cars are probably no longer under warranty, chances are a relatively newer model still is, especially if doesn't have too many miles on its odometer.

On the other hand, used cars also pose a greater risk of wear-and-tear than new cars. If you are buying used, make sure you're buying a car that is "certified pre-owned", which means the car has undergone inspection and has an accident report detailing any previous damage in the car's history.

With leasing, you're paying for the car's depreciation in value as you use it. You may have lower monthly payments this way, but there are some drawbacks. A leased vehicle will have a limit on the amount of miles you can drive per year and added liability for potential damage.

Purchasing the car outright will avoid these factors, and after the life the loan, you'll be free of a car payment until your next purchase. When getting your next car, you could also get credit for your trade-in if you own your current vehicle. If you still owe money on the car, some dealerships will cover the difference if it means getting you to buy.

Ultimately, the decision may come down to how long you plan to have the car. If you want to keep your cars new, leasing could be a solid choice, but if you plan on having one car for the long haul, it's definitely best to buy it outright.

____________________________

When it comes to being in the dealership, there will be enough on your mind that you shouldn't also burden yourself with these questions. Ideally, your budget, financing, and decision to buy or lease will all be figured out before you meet with a dealer. That way, you can worry about the most important thing: how it feels with you behind the wheel.

If you need financing, Florida Credit Union can help. We offer great rates on loans and refinancing for your current vehicle. For more information about financing, our products, and how to take advantage of our free auto advisor services, visit flcu.org/auto-loans. And for information on how to avoid the dreaded "Buyer's Remorse".