piggy bank with a grad cap on top of a stack of books
FAFSA: What You Need For The Application
Student
11/18/2019
By: FCU Team
The fall brings thoughts of pumpkin spice, cool weather and brown leaves. But the start of fall also should bring thoughts of back-to-school and continuing your education. That's why FAFSA, the Free Application for Federal Student Aid, opens its application process on October 1st.

FAFSA determines a student's eligibility for ALL federal financial aid. From loans to work-study programs, to grants and scholarships, they're all dependent on the information you submit on your application.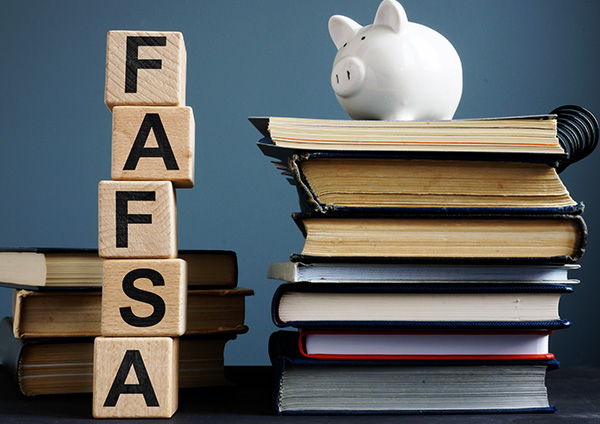 The earlier you submit, the better. Financial aid is often doled out on a "first-come, first-serve" basis, meaning you increase your chances of receiving aid if you apply as soon as possible. You should file as soon as you can, while also filing at a time where you demonstrate "the most eligibility for money," according to a report from CNBC.

To complete the FAFSA, you will need the following:
A Secure Connection
It probably goes without saying, but if you are filling out the FAFSA online, make sure you have a safe and secure internet connection.

Public Wi-Fi and non-secure connections are vulnerable to hackers and thieves who could potentially steal your personal information. The FAFSA application requires you to submit information relevant to yourself, your family, and your financial situation. If that information were to fall into the wrong hands, you would put yourself at risk of identity theft.

Make sure to complete your FAFSA applications at home. Avoid Public Wi-Fi sources like libraries, coffee shops, fast food restaurants and outdoor spaces when using a device that contains personal info, especially when submitting confidential information.
Relevant Information
If you are in high school and live at home, you're most likely considered a dependent. That means you need to report information about your parents. But here's where it gets a little bit more complicated. Even if you live on your own and support yourself, you may still be considered a dependent for the purposes of FAFSA. You can review the application guidelines here (link?) and determine which category best describes you.

To complete the FAFSA, you will need to provide data, including your (or your family's) income, your social security number, and driver's license number. Dependent students will also need to enter their parents' tax return information from the previous year.
Your Top Ten Schools
You don't need to be 100 percent sure of where you're going, but the FAFSA allows up to 10 schools you're considering. Be sure to list all of the schools you want to attend, as well as the schools you're sure you'll be accepted to.

With ten choices, there is plenty of flexibility to list all your favorite options, including your dream school, the university close to home, the small liberal arts college, the university with the most affordable tuition, and more.

This section can be altered after the fact, meaning if you change your mind about where you want to go to school, or if you decide to add a university you weren't considering before, you can easily make a switch.

Once complete, your FAFSA is provided to all of the universities on your list to speed up the financial aid process. Keep in mind if you decide to attend a school that isn't on your list, it could result in your financial aid being delayed.

---

The time is now to get your application in. Don't delay because it could impact how you plan on paying for college. Nothing is more valuable than an education, and a college degree opens many doors to achieving a successful, well-paying career. For more information on the FAFSA, visit their website and click here to get started on your application.